Discover more from The Matterhorn: truth in fiction
how to layer stories with ideas, culture, places, and texts ⬩podcast and original fiction from author and academic Dr. Kathleen Waller
Over 1,000 subscribers
Encountering Greatness
Witnessing events live and sharing the humanness of superpower at the World Athletics Championships
The Saturday Brunch: a figurative flat white or fizzy to start your weekend
Thank you, readers, for celebrating one year at The Matterhorn with me this week! It's been a very rewarding few days, first reaching 1000 subscribers just before the anniversary and then being featured by Substack, both with my Maine article as a staff pick (thanks
and
for the nomination!) and then as a full newsletter feature. I appreciate all your support and want to welcome the new readers today!
Fresh off of the Summer Travel series, I've got a special and unusual Saturday Brunch about my recent trip but will then stick with Tuesday Topics of Fashion & Memory for a few weeks until unveiling the next direction of the project. (Unless something crazy happens like last weekend! You never know…)
I apologize for so many photos and videos! 🙈 I certainly don't normally share family snapshots in this space, but hopefully they illustrate a few points here. Have a great weekend!
---
A last weekend of summer travel
And summer it surely was. The 33-38 degree temps (that's 90-100 for American readers) we had been experiencing in Basel for two weeks sans-AC had just broken into thunderstorming brilliance before it was time to hop on a short flight to Budapest for one shining night of top-quality track and field. The cool storms, however, lagged several days behind our flight, which meant that Budapest experienced its hottest weekend of the year and the athletes had a hot track to contend with.
Despite or because of the heat, they put on an incredible show at the World Athletics Championships. However, the heat also showed that these athletes are human. Forty percent of the marathon field dropped out, including defending world champion Tamirat Tola, and athletes on the track were visibly overheated at times. Still, many managed to set records or personal bests, some of which we witnessed in person.
Ok, so what am I writing about today besides sharing my delight? Admittedly, part of this post is that as a track nerd, I'm just so high and star-struck. As an athlete and coach over the years, and sometimes just a spectator, I've been lucky to witness track & field greatness before, but never so much in one night and in such close proximity. I want to write about the humanity within Greatness. About what it means to witness something in real life. About flags and nationhood.
Some questions came to mind during and after this weekend experience. I won't fully answer them all today, but I'd love to hear your ideas about any of these questions in the comments:
What does it mean to witness?
How has the meaning of live events changed since the pandemic?
What's the purpose of human touch? Why do we want to touch Greatness?
What is the purpose of a high five or handshake? An autograph? A photograph?
Do champions benefit from sharing their success with fans?
What does Greatness mean to a child?
Is Greatness forever?
Close encounters of the track & field kind
We were very, very lucky to have front row seats at the finish line on Saturday night (link to Day 8 schedule and results here and you can view roundups from each night on
's Substack publication). We had been trying to get tickets for the Paris Olympics next summer, just a three-hour train ride away, but the bank-breaking prices only offered us trial heats from distant views. Instead, my husband found these tickets for the cost of a hamburger meal out in Switzerland (no exaggeration). If you're interested in something similar, we saw that the indoor games are in Glasgow this February. Although the prices are a bit steeper, they're nowhere close to those of the Olympics.
This area we were sitting in was frequented by some athlete families or associates as well as a few athletes from the early days of competition. We sat next to a couple of Italians who threw their flag over the wall like we did with our American and British ones (my husband is British and I am American; our son is both, or whoever's winning), joking with them that we would just have to rearrange the order depending on the relay outcomes. A Hungarian family to our right was not bothered by the foreign flags that invaded their territory and were well-equipped with permanent markers and a bit of swag for autograph purposes.
The associated snack bar (with very meager offerings!) gave a view into all the little press boxes…except BBC and NBC. Sigh…no Michael Johnson. While his running in the nineties was incredibly inspirational, his commentary for the BBC is not only well-informed but also poignant, brutally truthful, and also kind.
This love for MJ has been the subject of articles from
and myself as well as the catalyst for an epic esoteric Notes thread about the championships.
So we did not encounter the great Michael Johnson, but we had other opportunities that did not disappoint. What did it all mean? This surreal feeling…was it the knowledge of our presence in celebrity, in fame? The witnessing of events that would play out in unknown fashion? The international camaraderie of the sport, where athletes are known at times to help one another even at a cost to their own performance or place?
Or was it simpler than that? We have all come to appreciate live events even more since the pandemic. The human nature of greatness in this experience was also marked by its proximity, even the sweat of athletes that gladly accepted on our hands.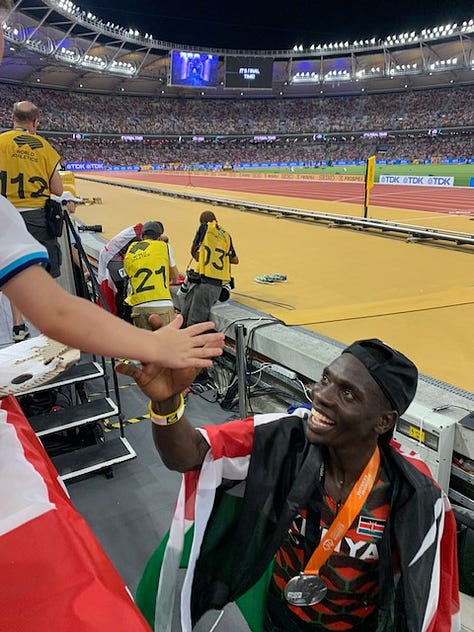 These photos are of a remarkable interaction between my son and Kenyan Emmanual Wanyoni, silver medalist in the men's 800 meters at the age of nineteen. The time he spent smiling to connect, high-fiving, and allowing my son to touch the medal were a completely intimate and selfless experience. He was sharing his glory with a young person who didn't fully understand what he was witnessing while the media boxes waited for the young medalist's arrival.
Some of the greatest encounters we had didn't involve this level of closeness but were still as memorable. Dutch athlete Femke Bol - 400 meter hurdle gold medalist and soon-to-be come-from-behind hero of the winning 4 x 400 team on Sunday - arrived in a corral to await her final leg of the semi-final of the relay race.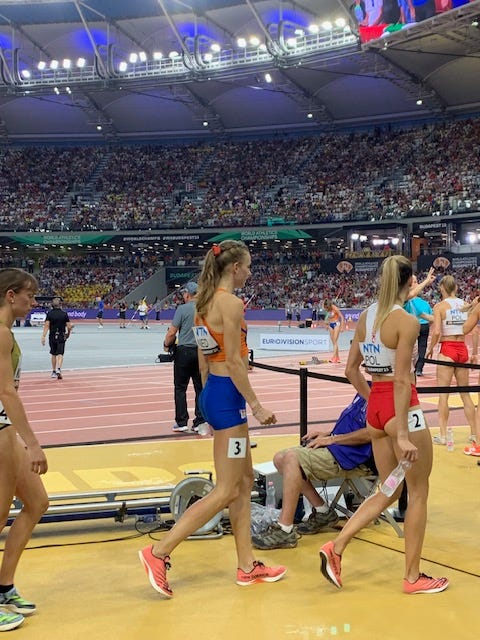 Once she was lined up with the other thirty-two athletes, I noticed something unique. She was the only one to practice her handoff in the pen. I witnessed her counting and positioning her left arm in the right position to receive her baton. Perfection. Finesse. But also: humility. She is a champion but does not assume that she will perform well without this attention to detail. She owes it to her team and herself, her fans as well.
Another legend who traversed in our midst, just over the pit of photographers, was Armond Duplantis, world record holder and gold medalist in the pole vault. His vaults on the other side of the track were still magical from a distance.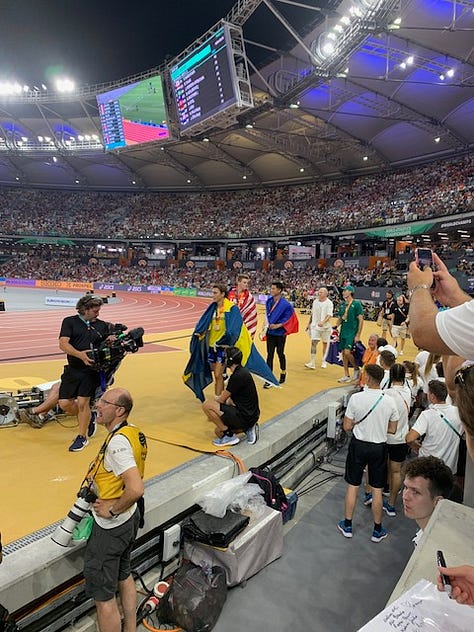 Close up, he walked with the other medalists whom he gave a lot of credit in his classy interview. The Swedish flag was his cape; a superhero walked in the flesh with fatigue and honor.
Fame is fleeting
Some others, like Wanyoni, came closer, into the pit for handshakes and autographs for our Hungarian neighbors. Christian Coleman took a selfie with us. Yes, that's him there up at the top of this article. Men's 4x100 meter gold medal winner.
Who? Many of you might be asking…a few years ago, MJ's reporting would have been focused on him. The tides had turned to Noah Lyles, who delivered on his promise of three gold medals.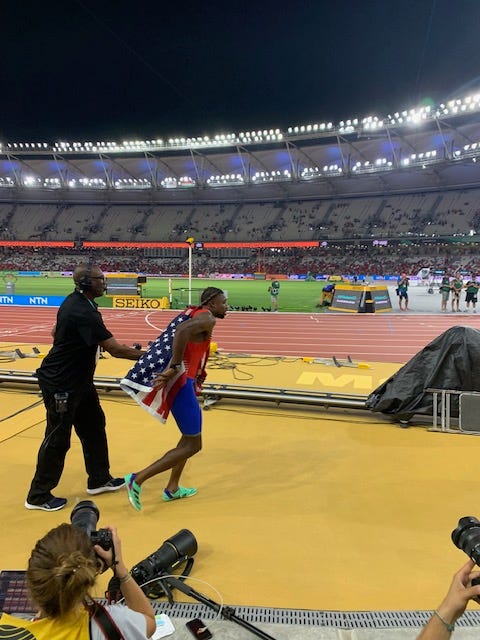 While Lyles was completely overwhelmed with signature and selfie requests, albeit very kindly and with a lot of joy to share, the three other gold winners just hung by. Their faces said, 'Come on, Noah.' The women's team, who also won gold, was waiting nearby for photos and press. We were waiting for Lyles, too — he was nearby and a roar of his Greatness hovered around him as he was pulled up into the stands for a hug from somebody he knew (I presume).
I looked at the other three, likewise amazed by them, but saw humans who were happy but tired, and a little bit alone. And then it dawned on me that one of them was Christian Coleman. Christian Coleman. 2019 World Champion in the 100 meters (and 4x100 meters). A few years ago, it would have been him in Lyles' place.
And Fred Kerley! Also a 100 meter World Champion in 2022 and silver medalist at the Tokyo olympics. He, at least, was now busy signing an autograph.
We called over, "Hey Christian! You were amazing. Congratulations. Can we have a photo?" He swiftly agreed, jumping down into the moat that separated us from them. A humble, kind smile followed his thanks and he took not one but SIX selfies of him with us while the thousands of massive cameras waited for him to join the others1. After the photo, I shook his sweaty hand and again emphasized how impressed we all were. The look in his eyes was everything. He had certainly not been jaded by success over the years.
Earlier in the evening, my husband was grabbing popcorn with our son and spotted David Rudisha, world record holder in the men's 800 meters. "David! You're a legend! Would you mind taking a photo with my son?"
A lot of people wouldn't recognize Rudisha. Does that make his glory less, weaker over the years? Fame is fleeting. The importance of this victory, both personally and for fans, however, can be lasting.
There are different kinds of heroes for different people. I had to name the figure in the photo for most of the friends I WhatsApped, but one friend, who happens to be an excellent 800 meter runner turned ultramarathoner, responded: Amazing! He's my all-time hero!
What's in a flag?
In an age of nationalism rising again in the name of far right conspirators, it's wonderful to see people take back the joyous side of celebrating nationhood as a cultural team — one that can compete but also celebrate the success of others. It's something we talk about in the Olympics and that spirit of both celebrating and competing in a peaceful international setting. But it's also the nature of track & field. After youth clubs and university teams, nations become the teams, like Premier League or NBA teams.
Lyles had something to say about this. Something that I think emphasizes the way this competition is about an international mindset. Although one could argue his comments were about giving himself even more credit, when you watch the video I think it looks like much more than this. He both expresses pride in his American citizenship and a view that looking inward too much can be dangerous:
"I watch the NBA finals and they have 'world champion' on their head. World champion of what? The United States?"
"Don't get me wrong. I love the US – at times – but that ain't the world." He compared the NBA to track and field where "we have almost every country out here fighting, thriving, putting on their flag".
The comments sparked a lot of comeback from NBA players especially. There are points that the NBA includes a lot of international players, for example. What do you think? I would love a hot take on this from
, recently returned to Substack, who often writes about the NBA
and
teaches history.
We brought two British and two American flags to Budapest. The idea was to hang one of each on the wall and wave the others…or possibly give them away to athletes.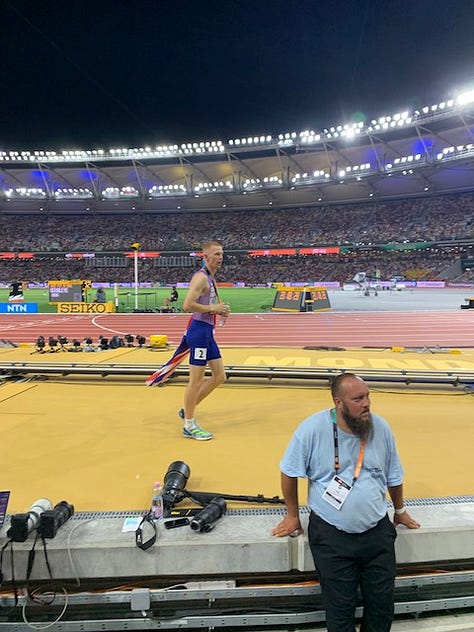 Following British Ben Pattison's bronze medal finish in the 800 meters, he looked shocked and excited just a few meters away. "Ben, here you go!" My husband threw him one of our flags and he graciously accepted, beginning a victory lap he had only dreamed of.
This young incredible athlete also overcame a heart condition and surgery, which he explains in this video…whilst still wearing our flag! Although we were hoping to get it back with an autograph, it's wonderful to see him wearing it with so much pride. Remember, it's still about 34 degrees (~95) at 9:00 p.m., so any extra clothing is a conscious choice.
When the GB women's 4 x 100 meter team came up with their own bronze, the team of four found themselves one flag short. Daryll Neita, probably the most decorated of the group, was searching in fatigue until we caught her attention. Just as graciously as Pattison, she accepted. The team of four gave the fans a fun show for photographs as they celebrated.
Later, when I shared the photo and comment that this was 'our flag' on Instagram in my star-struck craze, Neita shared the story on her own site in continued appreciation. Although the encounter would now reach thousands of fans, the initial toss and smile of response were the most impactful parts for us.
Trying to understand Greatness
Do you need to have insider knowledge of these feats to understand them or can you just observe and be impressed? Do you need to have know biographical information? Do you need to have tried the sport yourself?
I would argue that having some of this background knowledge makes it a richer moment. Duplantis walking with a flag would not mean so much if you didn't know who he was. A strong looking guy with a Swedish flag might inspire you to find out more, but you probably wouldn't feel all that much. I used to compete in the pole vault and I guess something else that happens is you watch something that you can at least imagine in sensation. But I'm still not sure if knowledge of the way it feels to hold the pole down the runway and when it moves into the box makes me appreciate him more. Maybe by not knowing, one can likewise learn through observation. Maybe in some ways, it's even more impressive, lived merely through imagination like a good book.
Encountering a champion athlete live is both like a first encounter with an iconic piece of art and not. We can likewise learn about a painting (for example) by its story and its artist. We might understand the medium or style from practical and historical points. When we see it in person, we experience awe, the sublime.
This can happen with live sport as well. Instead of its mediation through a television screen, the experience of witnessing something before you - even when the view isn't as good as the camera's - gives you an added experience within the aura of the event itself. In fact, you become part of the event, and might even be captured on the screen to be replayed for years to come.
But it's also different from art because the event will have an outcome that cannot be anticipated. It is part of this unknown that makes it special to witness. The event is one of humans, and their humanity makes it special.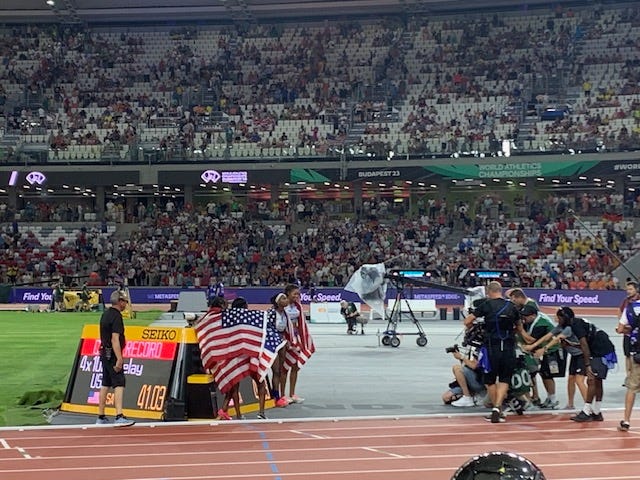 The athlete is more like the artist. The event is the painting. Perhaps a painting is special because we can see a human mark on its beauty; who else looks for those brush strokes, the mark of the artist's hand?
But the event is fleeting of course. We can only view it again and again in video clips.
Sha'Carri Richardson marked history as a champion twice, the second time anchoring her team to a championship record. Her story is one of comeback and perseverance despite media portrayal of her after she struggled following her mother's death.
Richardson was already Great; some would say she's on her way to being a GOAT. But she wants to be seen as a person before anything else:
"It almost seems like we [Black women] have to be superheroes," Richardson said last year, "It's just irritating because you take away the abilities, you take away the speed, you take away the talent … and we're still human."
Outside of the arena
Being human means, of course, that these athletes have lives outside the arena. I'm not sure how much of that world the new Netflix documentary about the American sprinters plans to capture, but at least sometimes the athlete is just a person.
We were back at the airport twenty-four hours later and saw several athletes wandering around in their national gear, like the French man below. But at least one Great man in our presence - Fred Kerley - had chosen a white t-shirt and khaki pants.
Do you interrupt these athletes? Congratulate them? Do you let them be 'normal'? For me, the clothing choice said it all: Kerley was trying to blend in. Impossible with that height and physique and beard. But we let him be and later noticed him eating at a table with other unmarked athletes.
Whilst waiting in the Easyjet corral, a fair bit different from the ones the relay racers had waited in, we looked on our phones at the upcoming indoor championships in Glasgow, which sadly don't work with our schedule (but maybe for yours?). There was a Norwegian athlete nearby, in her gear. My husband looked her up: Lene Retzius, the national pole vault champion and record holder who had come in 15th in the championships. She was too far away to even say, "Hey, well done," so we let it go.
On arrival, we saw her in the distance grabbing her poles where we used to grab our stroller. I used to grab poles like that with my teammates, with a bus ready to take them where we would place them gently in the middle aisle, reminding the non-vaulting teammates not to step on them.
But she did it alone. The national champion and record holder.
Did she feel Great in that moment or only tired?
Does the artist ever rest?
A painting remains the same. But a person - the artist, runner, vaulter - they keep evolving. They have different phases of their lives and that event or moment will always be a part of them. Even if others don't know of her Greatness when they see her on the street, her achievements mean something to her.
I was reminded again of the human element of Greatness, of touch and connection. The international hugs we witnessed on the finish line, despite failures, were the mark of friendships and respect. The high fives and handshakes were personal connections to a person who had experienced a great day in their life.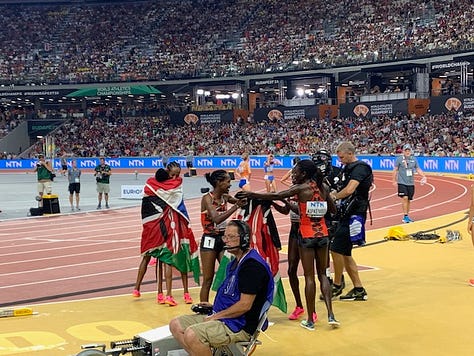 It was a kind of love, really. Was it not?
A love for the sport. For human perseverance and achievements. For one's flag and the support of a nation. For Great moments in sporting history.
But also a love for each other.
1
Yes, that is the best of six photographs. Did I mention it was really, really hot?