Discover more from The Matterhorn: truth in fiction
how to layer stories with ideas, culture, places, and texts ⬩podcast and original fiction from author and academic Dr. Kathleen Waller
Over 1,000 subscribers
Summer Travel: Istria
The Adriatic, squid, olive groves
Part of the summer travel series in The Matterhorn
This summer, I'm posting short vignettes of places I've visited as part of the Summer Travel Series on The Matterhorn. It's part of our ongoing look at culture and internationalism. We'd love to hear from you in the comments if you've been to or know more about these places, or if the descriptions generate ideas and make you think of something differently. Thanks for reading! - Kate
The Matterhorn: intersections of literature & art is a reader-supported publication. To receive new posts and support my work, consider becoming a free or paid subscriber.
---
Istria is a place I keep going back to. Do you have these places? As much as I love new discoveries in travel, going back allows one to fully relax or perhaps go deeper, discovering the tiny things that make a place what it is. The culture of everyday life. The narrow roads and paths creating labyrinths of place.
This Adriatic-lined peninsula is mostly housed in Croatia's national boundaries but also sneaks into Slovenia and Italy. The layers of languages and histories emerge between the sharp blues, dark rocky coast, and olive groves.
If you don't know the peninsula itself, you may know the small cities of Opatija, Pula, Rovinj…and very likely Trieste (especially if you are a James Joyce fan). Traveling the coast's tiny roads and veering off to visit coastal towns, vineyards, or hilltop villages is a treat that can take deceptively long. It's something we used to do before traveling with our son…who gets car sick in a very pungent way.
Now, we still go, but to a particular destination or two. We plant ourselves down for a week of reading, swimming, eating…you know, the normal boring summer stuff, that isn't really boring at all. In our little excursions, often on foot or bicycle, we still discover new things. Today, I am sharing just a small taste and would love to hear about your experiences here.
Croatia
In my podcast conversation with Tom Fish of Not That You Asked two weeks ago, I was reminded of my love for Croatia as he spoke of two southern destinations with joy: Dubrovnik and Split. And I was also reminded why in the summer, at least, the Istrian coastline feels a little more relaxed, even if it is still crowded with tourists.
I first went to Croatia whilst living in Hong Kong. I had planned to go to a music festival with my then-boyfriend, but we broke up before the summer. I still went on the trip, just not to the festival. That summer, I made it to Zadar, Split, and Hvar, all wonderful places worth a visit. (Zadar is home to a Sea Organ and has a tiny maze-like city-island you can walk over a bridge to get to.) But I also noticed that as I traveled south, things got busier. I still have yet to make it to Dubrovnik (still busier after GOT), hoping for an off-season visit but always having trouble finding weekend or inexpensive flights during that time. It can wait! '
I'm one of these summer travelers who doesn't want to go where the huge crowds are. That's sort of impossible if you go to the Adriatic coastline, but there are places in Istria, the north part of Croatia, where it feels much calmer and RAW but still with the turquoise waters, grilled squid restaurants, and easy coastal lifestyle alongside beautiful stone buildings and Roman ruins.
Driving the Istrian coast
We used to drive from Vienna, along with millions of other Austrians and Germans. After the bumper-to-bumper traffic, we arrived at pristine places like the island of Krk to kickoff our summer fresh after a busy teaching year. Other times, we would start at the north, first spending a night in Ljubljana or a countryside spa in Slovenia with fresh honey on everything.
Not far up the coast from Krk is the beginning of Istria, starting with the Belle Epoque glamour of Opatija. Sure, you could say it's lost its charm a bit. But that makes me like it more. I'm not one to want to go where everyone is going these days. Finding tracings of what once was as well as the start of reinventions and sleepy restaurants is a lot of fun. Maybe it's less fun for the restaurant owners, but one can feel even better doing our parts for these less-visited destinations.
Then, skipping the busier Pula, we settled in somewhere on the coast a little bit farther north, either in a tent or small cabin, close enough to run by the sea in the morning.
On days we wanted something a bit different, we would drive farther to places like Grožnjan, a town up on a hill with art galleries and pizzerias. Or we could go to a vineyard or on a truffle hunt. Or see some boats in a marina. Or take a hike.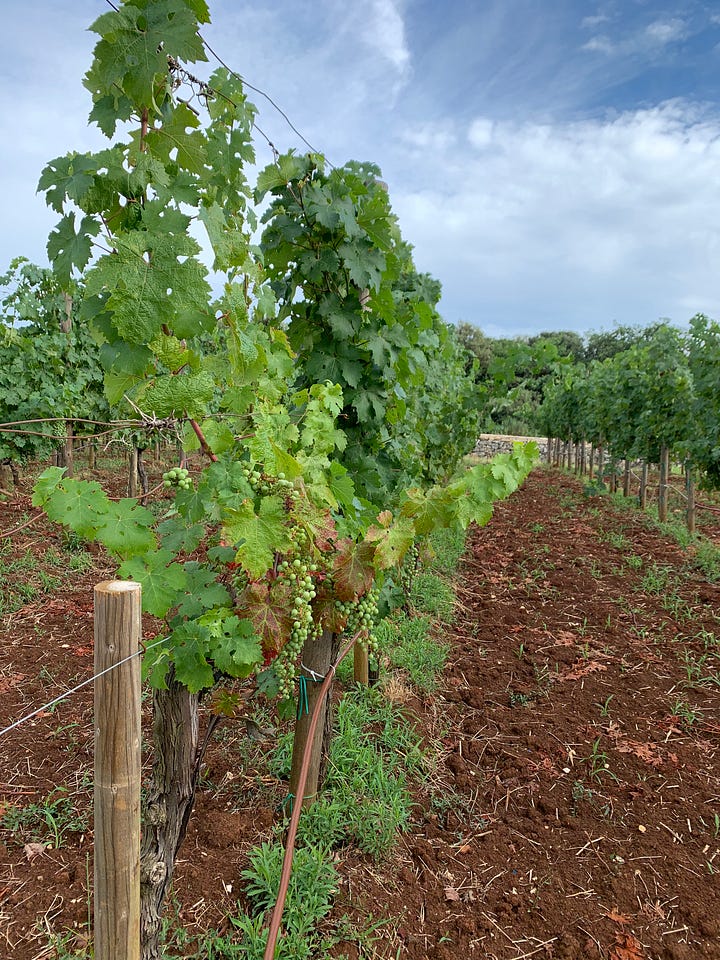 Rovinj (top photo) is also a wonderful day trip. It's not somewhere I'd want to stay because it is tiny and touristic. However, the spiral road up to the hilltop cathedral is worth it for the view, the gelato on the way, and the little local shops for lavender, jewelry, or leather products.
Coke with red wine
Right, so that's something that's drunk in Istria with delight. A lot of the wine on its own is also very average, but if you're drinking it cold by the sea, it really doesn't matter that much. The coffee is also pretty harsh.
It's not that there isn't good food and drink, but it's mostly in the pizza, ice cream, and grilled fish category. Great stuff, simple. Something I like about Istria is that although there are resorts and fancy places to go, it mainly feels very ordinary. Like an extremely foreign (to me) home away from home. There isn't much of a fuss about things. The people I encounter are blunt but friendly. What you see is what you get.
My best memories of Istria are extremely simple:
Eating grilled squid and pizza diavola at a restaurant. Our son frolicking in the adjacent olive grove with a new friend who doesn't speak his languages. They come squealing back: a sudden thunderstorm. Everyone moves inside the restaurant for grappa and tiramisu with local music until it passes.
Writing under the covered area by the sea with grainy coffee. Taking breaks in the sea. Waiting for my fingers to dry off, I gaze out at the incessant blue, almost losing a sense of reality.
Staying at a family's villa. The owners come by with fresh eggs and herbs from their garden…daily. We try to sleep in the teepee in the yard, but the mosquito attacks drive us inside. We play board games like I used to as a kid in a cabin by the lake in Maine.
This year, we'll be flying into Pula to go up the coast just half an hour, near where we had our wedding party in Vodnjan (near Poreč, where you can get boats to the islands). Oh yes, a few years ago, you could rent an Istrian villa rather cheaply. This is no longer the case! But you can still travel there for much less than other Adriatic and Mediterranean destinations. I'm hoping we get farther down the coast to Albania soon (and the national park established in part by Patagonia). But rather than look ahead to what's next, I'm happy to enjoy what I know, finding newness through dissonance that only comes once you know a place a little more.
The Matterhorn: intersections of literature & art is a reader-supported publication. To receive new posts and support my work, consider becoming a free or paid subscriber.